" I love cats because I enjoy my home; and little by little, they become its visible soul." (Jean Cocteau)
GIC Annie British Red,CZ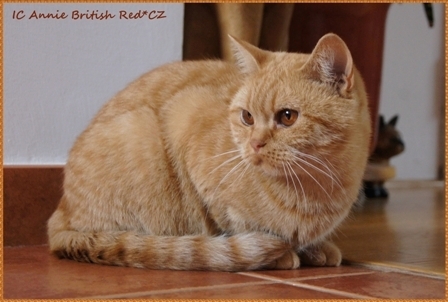 Date of birth:
October 12, 2012
Color: BSH d (red)
Father: SC Ayden British Red,CZ DVM
Mother: GIC Lady in Red of Czankra,PL
Tests: Blood group A
Agouti a/a (non-agouti)
HCM negativ (MVDr. Vojtěch Novák, CertVA, 2016)
PDK FIV, FeLV negativ
Regularly vaccinated, dewormed
Show results: GIC - GRANDINTERCHAMPION
4x nomination BIS
1x CAGCIB - FIFe WORLD SHOW PRAGUE 2014 + selection of the nomination
1x nomination to the special BIS for kittens
First price -kittens 6-9 months-special competition for red cats (Boskovice 2013)
Annie is a girl from our first litter and we are very proud of her. She was born as the third largest kitten. She got a name of Hebrew origin that means "sweet, full of grace." Her properties are hidden in the name. She is cuddly, very gentle, unobtrusive cat. From the mother's side she inherited coat color and roundness of her body, from her daddy´s side cardinality and "depth of eyes." Unlike parents, who prefer dry Royal Canin pellets, Annie loves wet feed and especially raw beef.
♥♥♥♥♥♥♥♥♥♥♥♥♥♥♥♥♥♥♥♥♥♥♥♥♥♥♥♥♥♥♥♥♥♥♥♥♥♥♥♥♥♥♥♥♥♥♥♥♥♥♥♥♥♥♥♥♥♥♥♥♥♥♥♥♥♥♥♥♥♥♥♥♥♥♥♥♥♥♥♥♥♥♥♥♥♥♥♥♥♥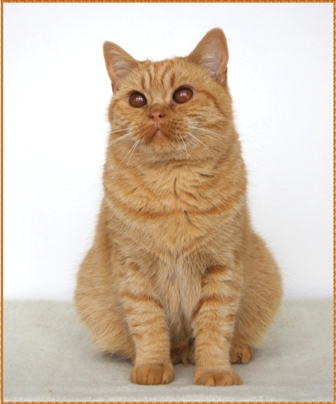 Annie British Red,CZ - Pedigree: